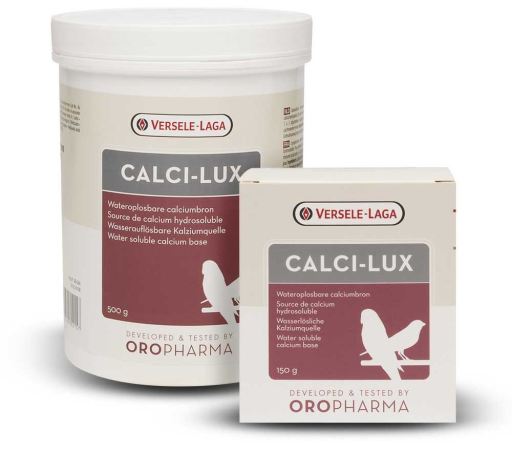 Description
Calci-Lux Versele Laga
Supplementary poultry feed. Oropharma Calci-Lux is a high-quality, water-soluble source of calcium. This dietary supplement is given for good eggshell formation, for good skeletal development in young birds, during the breeding season to prevent egg binding and in cases of calcium deficiency or calcium tetany.


Calcium is an essential element in the bird's body. Among other things, it is essential for the proper functioning of the nervous system. Calcium deficiencies in birds regularly lead to serious health problems. If the bird does not receive enough calcium, it causes decalcification of the skeleton and bone deformation.

In the hen a calcium deficiency during the rearing period results in poor eggshell formation and even egg binding. Therefore, it is highly recommended to give extra calcium to the birds during the rearing and growing season. Sufficient calcium ensures good eggshell formation and the development of a healthy skeleton.


Instructions for use



Preventively:

1 level measure (= 4 g) twice a week per 100 g Orlux eggfood or per 250 ml drinking water.



Before and during the breeding season:

2 level measures (= 8 g) daily per 100 g of Orlux eggfood or per 250 ml of drinking water.

In case of calcium deficiency:

3 level measures (= 12 g) daily per 100 g of Orlux eggfood or per 250 ml of drinking water.
Ingredients
Calci-Lux Versele Laga
Composition: Calcium lactate,Dextrose
Features
Calci-Lux Versele Laga
Reference

5410340602140

Weight

150 GR, 500 GR

Brand

Versele Laga

Product Range

Versele Laga Oropharma

Format

Solution, Salts

Properties

Anti diarrhoeals

Type

Calcium, Minerals

Bird Type

Cockatoos, Lories, Love Birds, Exotic Birds, Parakeets, Canaries, Goldfinches, Pigeons and Partridges, Wild Birds, Cockatiel
Customer Reviews
Calci-Lux Versele Laga