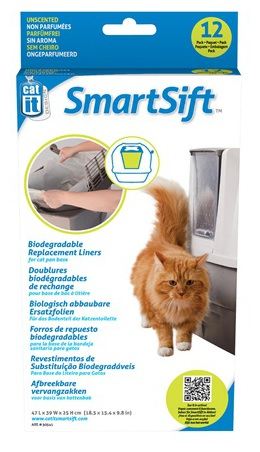 Description
12 Replacement Bags for SmartSift Upper Catit
Convenient and hygienic replacement bags for use with the Catit SmartSift self-cleaning sanitary cat litter box. They are biodegradable, disposable bags. Easy to install, the bags are designed to fit perfectly into the litter box.
They are very effective at preventing waste from sticking to the surface of the bin, making cleaning much easier. When the bag is full, it is simply removed and discarded. The liners are environmentally friendly and degrade naturally. They can hold waste for up to two weeks.
This model is for the top tray, the sand tray of the Hagen SmartSift sandbox. These are where clean litter is placed in the cat litter enclosure.
Features:
- For convenient and easy handling of litter.
- Prevents litter from sticking to the tray.
- Durable, can hold litter for up to 2 weeks.
- Biodegradable, degrades naturally.
- Fragrance free.
Features
12 Replacement Bags for SmartSift Upper Catit
Reference

22517505410

Brand

Catit

Units

12

Size

47x39x25 cm

Product Type

Hygiene bags

Product Range

Catit Accessories and spare parts
Customer Reviews
12 Replacement Bags for SmartSift Upper Catit