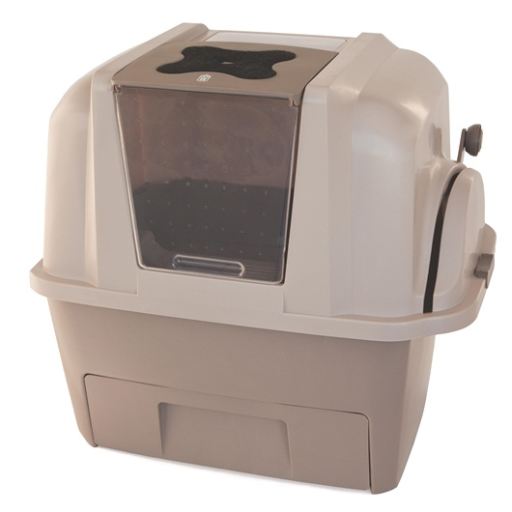 Description
Smartsift Automatic Litter Pan Catit
You won't waste any more time and you will gain in comfort every time you have to change sand. Its elegant design makes it easy to place it in any corner of your house. The automatic sifting of the sand saves maintenance. No need to pick up anything or use shovels, just pull the lever and that's it. The use of this tray is manual, it is not motorized. Spare parts are inexpensive.
Sealed design reduces litter leakage and provides privacy for your cat Suitable for cats of all sizes. Catit SmartSift is the most modern and revolutionary cat litter box in the world, specially created for the cleanest cats.
The safe, quiet and simple system does not require the use of electricity. It is 100% manual and requires no repairs. The SmartSift automatic tray includes a biodegradable liner for the cat tray (top refill bag) as well as one for the pull-out bin (bottom refill bag). Designed by Hagen's design team and inspired by cats and cat lovers around the world, SmartSift has many other unique features that set it apart from other litter trays on the market In addition to the easy-to-use lever system, the cat litter tray also includes a carbon pad that helps control odors.
The entrance to the litter tray is designed for cats of all sizes, with a self-closing swinging door that ensures the unit is sealed, further controlling the spread of odors and dust. Being of closed design the unit has a cozy private area for cats that are not disturbed by human presence.
ADVANTAGES: Self-cleaning litter tray. Elegant design. Manual use. Carbon pad to prevent odors. For cats of all sizes. Private area. Reduces litter losses. USE: Catit SmartSift self-cleaning litter tray. Fantastic product that will save you the inconvenient daily cleaning of your cat's litter box.
INSTRUCTIONS FOR USE
1- Pull the lever: Practical and automatic: Once a day move the lever back and forth, so you will pass the sieve and separate the litter from the waste and compacted waste. All components are easily removable for replacement or general cleaning (which you will only have to do occasionally after a few weeks).
2- Remove the bottom bag: Discreet/hidden waste: Only once a week you will have to remove from the bottom tray the bag with the waste agglomerated in compact balls. No odor. Do not worry about aesthetic discomfort: it does not bother, it does not smell, the bag is removed without contact with the waste and all in one minute.
3- Technology: no motor/simple and easy: The clean sand is filtered and sanitized through a special sieve, so you don't have to change it, just refill the level when necessary. Don't waste time on maintenance.
MEASUREMENTS: External: 66 Length x 48 Width x 63 Height cm. Internal: 48 Length x 33 Width x 43 Height cm. CAPACITY: 5 L. WEIGHT: 6,400 kg. Net Weight Volume Weight Ratio = 25 Kg
Features
Smartsift Automatic Litter Pan Catit
Reference

20022517506855

Color

Gray

Colors

Beige

Brand

Catit

Tray Shape

Squares

Size

26x19x25 cm, 66x48x63 cm, 66x63x48 cm

Product Type

Covered Sandboxes
Customer Reviews
Smartsift Automatic Litter Pan Catit