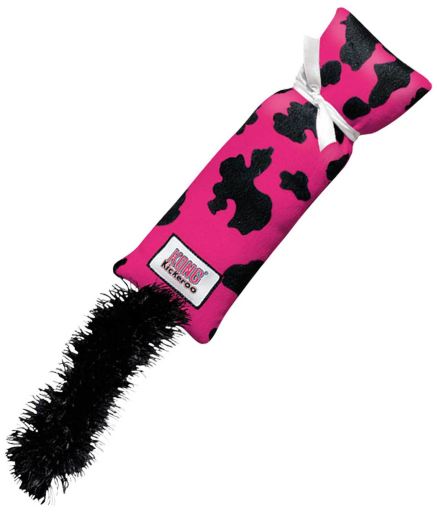 Description
Kickeroo 2 (Cojin Estampado Vaca) KONG
Watch your cat attack, wrestle and snuggle with its KONG Kickeroo. This unique cat toy appeals to a cat's instinctive desire to stalk and capture prey.
The Kickeroo's size, shape and material were specially chosen to promote wrestling and hind paw kicking.
The fluffy tail provides movement for extra excitement, not to mention there's is a generous amount of KONG's potent North American catnip inside to further encourage play.
Don't be surprised if the Kickeroo becomes your cat's favorite toy.
Irresistible, highly potent catnip scentPlush body with an easy-grab fuzzy tailAssorted patterns.
Features
Kickeroo 2 (Cojin Estampado Vaca) KONG
Reference

035585055510

Brand

KONG

Colors

Pink, White, Black

Type

Plushies

Product Range

KONG plush toys, KONG Puppy & Kitten

Size

43,5x10x7 cm
Customer Reviews
Kickeroo 2 (Cojin Estampado Vaca) KONG