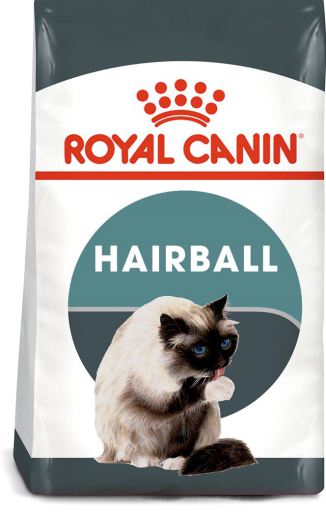 Description
Hairball Care Salsa Royal Canin
Cats spend much of their day grooming, which can lead to intake large amounts of hair. That ingested hair can become compacted in the digestive tract and cause the formation of hairballs that are regurgitated or excreted through the feces.
Hairballs can generate inconvenience and discomfort, stomach pain and regurgitation, as well as problems in digestive health.
Although long-haired breeds are more prone to the formation of hairballs, Unfortunately, any cat can suffer them.
Hairball Care ROYAL CANIN® sauce is formulated to help your cat naturally stimulate intestinal transit and help eliminate ingested excess hair that otherwise would accumulate in the stomach
Hairball Care sauce ROYAL CANIN® also helps you maintain your ideal weight, thanks to a low fat. It also contains essential fatty acids, to give your cat the energy it needs to perform daily activities.
Hairball Care ROYAL CANIN® sauce is a highly digestible food thanks the inclusion of dietary fiber, which contributes to the equilibrium of the intestinal flora and to the proper functioning of the digestive system.
it also includes a moderate protein content to maintain muscle mass.
to accommodate the preferences of each jack, Hairball Care ROYAL CANIN® is also available in dry form, with kibble palatable. If you want to give your cat a mixed diet, follow our feeding guidelines to ensure that it is accurate amount of both food and thus reap all the benefits.
ROYAL CANIN® we are committed to providing nutritional solutions tailored to the needs of your pet. We subject all our products to a thorough quality control process to ensure optimal properties of food and to meet the nutritional needs and the specific lifestyle of your cat. This means that when you feed your cat Hairball Care sauce ROYAL CANIN®, we are providing a complete and balanced diet.
Ingredients
Hairball Care Salsa Royal Canin
COMPOSITION: meat and animal derivatives, cereals, vegetable protein extracts, derivatives of vegetable origin, minerals, oils and fats, various sugars, yeasts.

ADDITIVES (per kg): Nutritional additives: Vitamin D3: 82 IU, E1 (Iron): 3 mg, E2 (Iodine): 0.12 mg, E4 (Copper): 1 mg, E5 (Manganese): 1 mg, E6 (Zinc): 10 mg - Technological additives: Clinoptilolite of sedimentary origin: 0.4 g.

ANALYTICAL CONSTITUENTS: Protein: 7% - Fat content: 2.7% - Crude ash: 1.3% - Crude fiber: 1% - Moisture: 82%.
Features
Hairball Care Salsa Royal Canin
Reference

9003579000410

Brand

Royal Canin

Weight

85 gr

Units

12

Age

Adult

Flavor

Meat

Special Cares

Hair antibolas

Format

, Pocuh

Pet

Cats

Made in

France

Power

16 W

Product Range

Physiological Royal Canin, , , Royal Canin Cat Wet Food, Royal Canin Physiological

Manufacturer

Royal Canin,ESP28000439,Royal Canin Ibérica, S.A. PLAZA CARLOS TRIAS BELTRÁN, 4 Madrid 28022 MADRID (ESPAÑA),

Condiciones Nutricionales

Gusto

Cuidados Especiales

Produits Français

Nutritional Conditions

0
Customer Reviews
Hairball Care Salsa Royal Canin