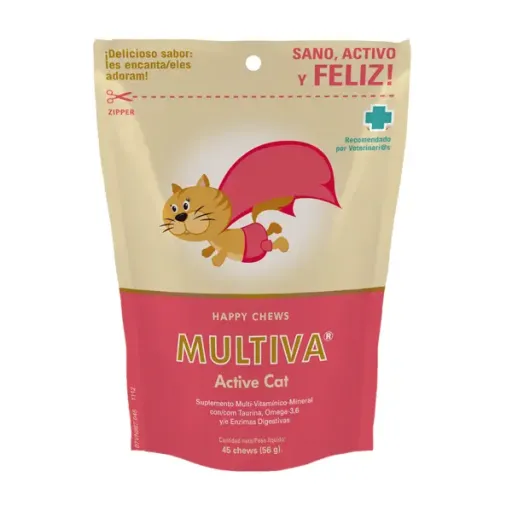 Description
Multiva Active Cat 45 Chews VetNova
The most complete MULTIVITAMINIC preferred by cats.

- MULTIVITAMIN. The most complete formula, with 37 essential nutrients.
- Complete formula of 37 essential nutrients: Vitamins, Minerals, Omega-3 and Omega-6, Taurine, Cystine, Methionine and Digestive Enzymes.
- Contains macro and micronutrients that act synergistically for an optimal functioning of the organism.
- Combat the nutritional deficiencies associated with insufficient intake or an increase in the needs of the organism.
- Increase the appetite and activity of decayed, apathetic or Inappetent.
- Nutritional support in stressed, sick or recovering animals.
- Helps to strengthen the immune system, improving defenses in stress situations, convalescence ...
- Recommended in animals with high needs nutritional supplements.
- Ideal supplement for growing kittens and pregnant and lactating females.
- Strengthens the health of geriatric animals.
- Prevents and combats excessive hair loss, ot dermatological problems and some intestinal pathologies such as those that occur with poor digestion or weight loss.
- Recommended by veterinarians - Complete, balanced and effective.
- Chews with high palatability - Facilitate daily intake.
- Suitable for all races and ages.
- Package of 45 chews.
Features
Multiva Active Cat 45 Chews VetNova
Reference

8436545960028

Brand

VetNova

Weight

56 gr

Complements for

Immune System,

Components

Vitamins and minerals

Special Cares

Units

45 Chews,

Product Range
Customer Reviews
Multiva Active Cat 45 Chews VetNova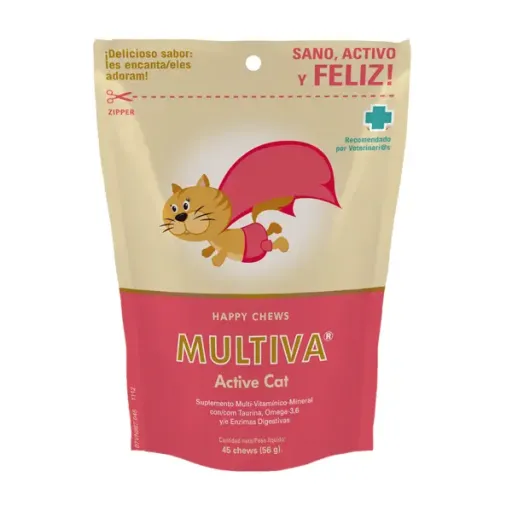 Este producto es muy bueno, aconsejado por mi veterinario. El precio el mejor que he encontrado
A minha gata adorou as vitaminas :)