customer_also_bought_ani
Traveness

Traveness
Description
Atlantica Fish Naturea
Naturea Atlantica was developed by vets and nutritionists and contains roughly 60% animal origin ingredients, with salmon as its main ingredient (45%). Grain-free and with ingredients approved for human consumption, Naturea Atlantica follows the Naturally Suited concept, and is enhanced with sweet potato, salmon oil, eggs, fruits, vegetables, aromatic herbs and seaweed.

Naturea Atlantica has high levels of Glucosamine, Chondroitin and MSM to nurture healthy joints and the mobility of your dog.
Ingredients
Atlantica Fish Naturea
Animal ingredients
Fresh Deboned Salmon: 25,10%
Salmon Meal: 17,00%
Chicken Fat: 7,69%
Trout: 6,48%
Salmon Gravy: 1,62%
Egg Powder: 1,30%
Salmon Oil: 0,40%
Typical analysis
Crude Protein: 28%
Crude Fat: 18%
Crude Fibre: 3.5%
Moisture: 8.5%
Carbohydrates: 33.5%
Crude Ash: 8.5%
Metabolisable Energy: 368 kCal/100g
Calcium: 1.37%
Phosphorus: 0.98%
Composition
42% Salmon (includes 25% Fresh Deboned Salmon and 17% Salmon Meal), 30% Sweet Potato, Chicken Fat, 6,5% Trout, Lucerne, Linseed, Salmon Gravy, Egg Powder, Minerals, Vitamins, Salmon Oil, Glucosamine (min. 800mg/kg), Methylsulfonylmethane (min. 800mg/kg), Chondroitin Sulphate (min. 550mg/kg), Fructooligosaccharides, Apple, Carrot, Tomato, Spinach, Psyllium, Rosehips, Camomile, Burdock Root, Peppermint, Marigold, Seaweed, Cranberry, Dandelion, Aniseed, Fenugreek, Yucca Schidigera Extract, Thyme, Marjoram, Oregano, Parsley, Sage.
Features
Atlantica Fish Naturea
Reference

5600775323066

Weight

15 Kg, 12 KG, 2 KG

Brand

Naturea

Product Range

Naturea Grain Free

Physical Activity

Average

Age

Adult

Flavor

Fish, , ,

Quantity

15 Kg, 12 Kg, 2 Kg

Dog Size

Not Specific

Made in

Portugal
Customer Reviews
Atlantica Fish Naturea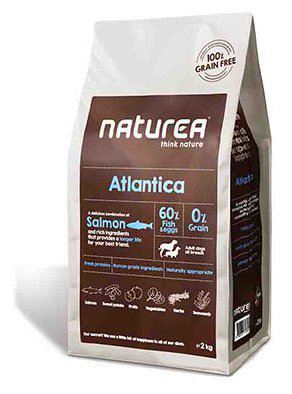 Produto com cheiro muito agradável, uma textura muito crocante. Ração com produtos naturais o que beneficia a vitalidade do meu cão. Recomendo.