customer_also_bought_ani
Traveness

Traveness
Description
Bulldog Adult Royal Canin
Royal Canin has developed this complete food to satisfy the nutritional needs of the French Bulldog 12 months, taking into account their specific nutritional needs and playing a role in the prevention of certain particular sensibilities. The company carefully selects the ingredients, especially the meat, to ensure excellent quality and State of health.

The French Bulldog is a compact puppy between 8 and 14 kg, with prominent muscles and strong bones, all a Mastiff in miniature. Its head is broad, with a short snout that makes you have difficulties to take food and swallow food without chewing. His tendency to suffer from digestive disorders by this caraceristica is also known.

With a reinforced and optimal protein level with L-carnitine, 26 adult French Bulldog helps maintain muscle mass, at the same time that stimulates lipid metabolism.
Nutritional characteristics
Joint reinforcement: due to its content in Glucosamine and chondroitin sulfate, 26 adult French Bulldog helps maintain the health of cartilage and joints, also the Omega 3 fatty acids provide anti-inflammatory properties.
Reduction of the smell of faeces: formulated with L.I.P. proteins Fructo-oligosaccharides (FOS), 26 adult French Bulldog guarantees an optimum digestibility and balances the intestinal flora. In addition, it helps to reduce intestinal fermentation, which causes flatulence and foul-smelling stools.
Special brachycephallic jaw: the shape of croissant of the croquette of 26 adult French Bulldog makes that the dog can catch it more easily, while its size and texture encourage chewing and contribute to good oral hygiene.
Ingredients
Bulldog Adult Royal Canin
Ingredients
: rice, wheat, animal fat, dried pork protein, isolated from vegetable proteins (L.I.P.: protein selected by its high assimilation), dehydrated poultry proteins, hydrolyzed animal protein, sugar beet pulp, minerals, soybean oil, fish oil, fructo-oligosaccharides, hydrolysate of crustacean (source of Glucosamine), summary of rose of the India (source of lutein), extracts of green tea and grapes (source of polyphenols)hydrolysed cartilage (source of chondroitin).
Guaranteed analysis: crude protein 26%, oils and fats gross 18%, ash gross 5.5%, crude fibre 1.3%, moisture 9.5%, calcium 0.7%, 0.6% phosphorus, L-carnitine 100 mg/kg, chloride Glucosamine 990 mg/kg, glucosamina condroitina 1000 mg/kg, omega 3 fatty acids 0.85%, omega 6 fatty acids 3.63%, EPA/DHA 0.4%, biotin 3.18 mg/kg, DL-methionine-0,44%, 0.07%, 3.39% linoleic acid aranquidonicotaurine, 2000 mg/kg, L-lysine 0.97%, arginine 1.57%.
Minerals: potassium 0.7%, 0.06%, MN 84 mg mg/kg, zinc 236 mg/kg, selenium 0.27 mg/kg sodium 0.4%, 0.59% chlorine, iodine 5.7 mg/kg, iron 171 mg/kg, copper 14 mg/kg.
Vitamins:Vitamin B5 (Pantothenic acid) 150 mg/kg, folic acid 14.1 mg/kg, vitamin B6 (pyridoxine) 78.3 mg/kg, vitamin B1 (thiamin) 27.9 mg/kg, vitamin B12 (cyanocobalamin) 0.14 mg/kg, vitamin B2 (riboflavin) 50.2 mg/kg, vitamin D3 800 IU/kg, Hill 2000 mg/kg, vitamin B3 (niacin) 499 mg/kg.
Metabolizable energy (measurement): 4058 kcal/kg.
Additives (per kg): Nutritional additives: vitamin A 30400 IU, vitamin D3 800 IU, E1 (iron) 52 mg, E2 (iodine) 5.2 mg, E4 (copper) 10 mg, E5 (MN) 67 mg, E6 (Zinc) 201 mg, E8 (selenium) 0.11 mg, technological additives: 3.5 pentasodium triphosphate Gr. preservatives and antioxidants authorized CE.
Recommended daily allowance: the recommended amounts are indicative and should be adjusted accordingly that vary according to the age of the animal, activity, ambient temperature, etc. Rations must then conform to the energy needs of the animal, guided by the maintenance of optimal body weight.Provided that a change of power is made, a time of transition must be observed to prevent digestive problems.
Features
Bulldog Adult Royal Canin
Reference

3182550719803

Weight

3 Kg, 12 KG, 12 + 2 KG

Brand

Royal Canin

Physical Activity

Average

Age

Adult

Flavor

Chicken, , ,

Breed

Bulldog

Dog Size

Medium

Quantity

3 Kg, 12 Kg, 12+2 Kg

Made in

France

Power

16 W

Product Range

Physiological Royal Canin, Royal Canin BHN Breed Health Nutrition, , , Royal Canin Breed Health Nutrition, Royal Canin Physiological

Manufacturer

Royal Canin,ESP28000439,Royal Canin Ibérica, S.A. PLAZA CARLOS TRIAS BELTRÁN, 4 Madrid 28022 MADRID (ESPAÑA),

Produits Français
Customer Reviews
Bulldog Adult Royal Canin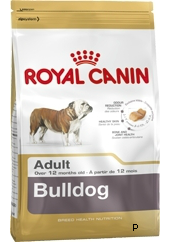 A melhor comida para ces de sempre!!!
Convient parfaitement mon bulldog
Il nostro bullo nutrito esclusivamente con questo prodotto mai avuto un problema.