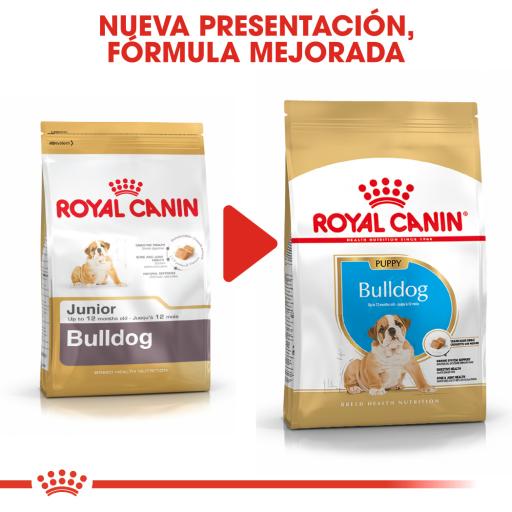 customer_also_bought_ani
Traveness

Traveness
Description
Bulldog Puppy Royal Canin
Nutritional characteristics
It satisfies the most demanding appetites: size, shape and texture especially developed, a few carefully selected scents, and a formula tested by specialists, the French Bulldog 30 Junior is so tasty that even the pickiest pup will be satisfied.
Nutritional tips
During the first weeks of life pup benefits of anti-bodies which transmitted by the mother, but this protection is lost between the 4th and 12th week. With a still-immature immune system, is exposed to risks of infections, in particular, when still has not been vaccinated. Only a specially developed food can help you during this "empty immune", giving it greater security.

The Cubs are a bone growing up to 8-10 months of age. Bones need considerable amounts of protein and minerals, in addition to the exact level of calcium, which must not be neither too little nor too much. From that age, slows the growth of the skeleton and consolidates the bone structure, passing to have proportionately a further development of muscles. At this stage, the food should be less abundant, but with a concentration of higher energy than the adult and a higher percentage of protein.

Milk teeth, which appeared around the 3rd week, are remplazados by the final denture when you have approximately 7 months. Thereafter, it is important to encourage chewing of food, not only to reduce the speed of the intake, but also to promote good oral hygiene.
Ingredients
Bulldog Puppy Royal Canin
Ingredients: rice, dehydrated poultry proteins, isolated from vegetable proteins (L.I.P.: protein selected by its high assimilation), wheat, animal fat, hydrolyzed animal protein, beet pulp, ores, pig protein dehydrated, soybean oil, fish oil, fructo-oligosaccharides, hydrolyzed yeast (source of mannan-oligosaccharides), hydrolysed crustacean (source of Glucosamine), summary of rose of the India (source of lutein)hydrolysed cartilage (source of chondroitin).
Guaranteed analysis: crude protein 30%, oils and fats gross 20%, ash gross 7.3%, crude fibre 1.2%, moisture 8%, calcium 1.2%, phosphorus 0,9%, L-carnitine chloride Glucosamine 990, 50 mg/kg mg/kg, glucosamina+condroitina 1000 mg/kg, omega 3 fatty acids 0.89%, omega 6 fatty acids 4.04%, EPA/DHA 0.4%, biotin 3.29 mg/kg, DL-methionine 0.5%, 0.08%, 3.8% linoleic acid aranquidonicotaurine, L-lysine 1.2%, 1.59% arginine, 2000 mg/kg.
Minerals: potassium 0.7%, magnesium 0.07%, manganese 86 mg/kg, zinc 245 mg/kg, selenium 0.31 mg/kg sodium 0.4%, 0.53% chlorine, iodine 5.9 mg/kg, iron 199 mg/kg, copper 15 mg/kg.
Vitamins: Vitamin B5 (Pantothenic acid) 155.4 mg/kg, folic acid 14.6mg/kg, vitamin B6 (pyridoxine) 81.1 mg/kg, vitamin B1 (thiamin) 28.9 mg/kg, vitamin B12 (cyanocobalamin) 0.14 mg/kg, vitamin B2 (riboflavin) 52 mg/kg, vitamin D3 800 IU/kg, Hill 2000 mg/kg, vitamin B3 (niacin) 516.8 mg/kg.
Metabolizable energy (measurement): 4166 kcal/kg.
Additives (per kg): Nutritional additives: vitamin A 31500 IU, vitamin D3 800 IU, E1 (iron) 53 mg, E2 (iodine) 5.3 mg, E4 (copper) 10 mg, E5 (MN) 69 mg, E6 (Zinc) 206 mg, E8 (selenium) 0.12 mg, technological additives: 3.5 pentasodium triphosphate Gr. preservatives and antioxidants authorized CE.
Recommended daily allowance: the recommended amounts are indicative and should be adjusted accordingly that vary according to the age of the animal, activity, ambient temperature, etc. Rations must then conform to the energy needs of the animal, guided by the maintenance of optimal body weight. Provided that a change of power is made, a time of transition must be observed to prevent digestive problems.
Features
Bulldog Puppy Royal Canin
Reference

3182550743891

Weight

3 Kg, 12 KG

Brand

Royal Canin

Physical Activity

Average

Age

Puppy, Junior

Flavor

Chicken, , ,

Breed

Bulldog

Dog Size

Medium

Quantity

3 Kg, 12 Kg

Made in

France

Power

16 W

Product Range

Physiological Royal Canin, Royal Canin BHN Breed Health Nutrition, , , , , Royal Canin Breed Health Nutrition, Royal Canin Puppies, Royal Canin Physiological

Manufacturer

Royal Canin,ESP28000439,Royal Canin Ibérica, S.A. PLAZA CARLOS TRIAS BELTRÁN, 4 Madrid 28022 MADRID (ESPAÑA),

Produits Français
Customer Reviews
Bulldog Puppy Royal Canin